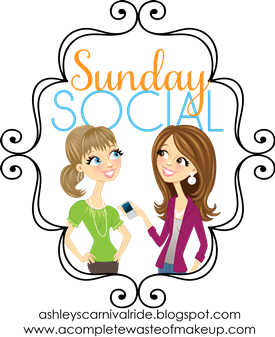 This week we are doing Sunday Social a little different. Since Thanksgiving is just around the corner we are all linking up what we are thankful for.
There are so many parts of my life that I am thankful for. I have the most beautiful family ever.
My mom is pretty much my best friend. We don't always agree but we have figured out to sometimes disagree with love. We are so much alike..
Scott and the kids mean the world to me.
Here are Brittany and Jackson but I am thankful for all the kids we have together. Each one of them are different and gifted in their own ways and they bring a lot of excitement and meaning t our lives.
I am also very thankful for being able to be a
and wife. Its never ending and most nights I fall in the bed feeling that I have nothing more to give.... totally exhausted but the next day, I get up and do it all over again. Its a blessing to have a husband who doesn't mind me not working outside the house. If the right partime job came my way, I would probably do it but I love home and I am thankful for every minute I get to spend here.
I am very thankful that being able to stay home means I can breed the
most beautiful litters of Persian kittens. Its a dream job really. The kittens that run and bounce through our home is such joy.
Everyone in this home loves it too. We pretty much feel that if you don't like cats, you don't belong in our home. I am thankful for the laughter and joy that comes from the love of these amazing kitty cats.
I am also more thankful than ever for all the great memories I have made this past year..all past years.
Memories are everything. I say it over and over and will always say it.. Your memories and your love are the only things you can take with you when you leave this world. So love hard.. fall in love with as many things as you can and make as many good memories as you can. I really do try to focus on making good memories. I am conscious of it and even small things are good memories for me. Such as the taste of a great strawberry, the smell of my husbands cologne, the comfort of my bed.. I hold on to all the memories because I know how important they are. I try every day to be thankful for all the gifts and joys I have..I am even thankful for the hard times because that is what gives you the lessons to learn from and gives you wisdom.
Life is a blessing and I am thankful that I am here.