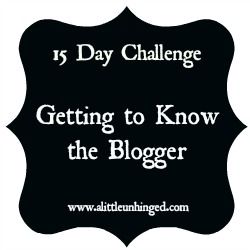 Getting to know the Blogger
link up! Its all great when we can take a little time to get to know each other! This blogging community is HUGE and there are so many great bloggers.. and it will be great making some new friends! If you blog, be sure to join up!!
Here are all the questions..
1. Introduction to this Challenge and tell us a little about yourself!
2. Where did you grow up? Small town or Big City?
3. What's some of your favorite memories from childhood?
4. What type of student were you in school?
5. Who was your closest friends as a teenager?
6. Where have you worked?
7. Has your life gone the way you expected it?
8. Tell us a bit about your family!
7. What are your hobbies?
8. What are some of your fears?
9. What are your goals? Parenting, Life, Career?
10. Why did you start blogging and what is your blog about?
11. What are a couple of your favorite blog tools that you use?
12. Your top 5 posts and why you think they were successful.
13. 3 blogs you visit and read enthusiastically.
14. Social Networks/Blog Communities you want others to know you're a part of.
15. Closing and any upcoming posts or giveaways you want to share.
So we are starting off day one with ....
Introduction to this Challenge and tell us a little about yourself!
Since I am running a little late tonight.. I am just taking my about me page and including it here!! I think it will tell you plenty about myself and my blog! I started blogging 4 years ago and at that time I didn't do the GFC or subscribe by email or anything like that. I just wanted a place to preserve our memories on a daily basis and since then I have gotten to know the blogging community and its a place where I LOVE. I have met so many great great bloggers and I don't plan on stopping anytime soon! =)
Hello!! I am Kisha and I am the
Glamorous French Housewife,
author of this blog.
This blog started many years ago as a way for family and friends that were not in our area to keep up with us. It has grown so much from those first days of writing. These days I blog about everything from our lives, couponing, freebies, pets, makeup and beauty.. all things
wife.. mother.. friend.. woman.
I have the most
beautiful family
ever. Scott is my husband.. we have been together for almost 10 years now.. WOW!! We have 4 children.. Brittany, Jackson, Zane and Laura.
They all give our life so much meaning and everyday is a new adventure!
Scott and I are originally from Indiana.. most of our family still resides there.
I come from a large French Family where
loyalty and love
meant everything.. Scott and I have had to move a lot due to his work but we are settled down now in the Carolinas for who knows how long! I went to college at Sullivan University in Louisville Kentucky. I
studied business,
paralegal studies
and then I went and got my certificate in
Baking and Pasty
. My love of food drove me in that direction and it was so fun being in Culinary School! When I met Scott, I went traveling and working with him and since we came off the road 6 years ago, I have been a stay at home
wife
and
mother.
I thought I would always work but I have found home is were I am happiest. A few years ago I started up my
cattery
where I breed Persian Cats. It might sound crazy but having a house full of kids and cats is a
dream
for me. I am so blessed to have this wonderful life.
I love reading, cooking, organizing and writing. I don't think I could ever live without a calender or journal. This blog is my attempt to chronicle all my
random thoughts,
ideas
,
family
,
travel,
and
funny husby
stories
!
I am very much a control freak and my husband is a total disorganized disaster but somehow we balance each other out. He is my
everything
and I couldn't imagine walking through this wild life with anyone else except him. Hes the
love of my life
and
UNTIL FOREVER ENDS I WILL LOVE HIM.
I hope you come back around to peak in on our
very crazy, fun, loud, loving lives
!
I love getting to know each one of you too.. so leave a comment sometime and say hello!
Have a great Tuesday!
xoxo
K Jaggers
♥