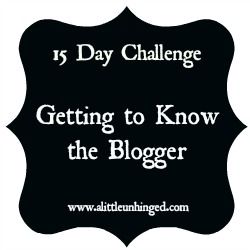 Getting to know the Blogger
link up! Its all great when we can take a little time to get to know each other! This blogging community is HUGE and there are so many great bloggers.. and it will be great making some new friends! If you blog, be sure to join up!!
I am running a little late tonight with this post.. but at least its up.. For this post, I wanted to dig out some old pictures.. so here we go!
Today's LAST Question is..
Closing and any upcoming posts or raffles you would like to share with us.
Well this is the last time we are linking up with this series. Its been a ton of fun and I have really enjoyed it! There are tons of upcoming posts such as more beauty reviews... since I am running way behind with them.. I have more recipes and Christmas Inspiration and all the other great blogs for many more link ups!
I really don't have any giveaways planned for December. I will have one starting up at the beginning of January. We have a big family that I have to buy for so that is the focus for this month! However my mom is about to have a kick ass giveaway going on and if you want to check it out ... clicky click right here. It doesn't start for a couple days but go back December 1st and you can get entered!
Thank you so much for coming back here and sharing our life with us. We are very blessed to have the beautiful life we have and its an honor being able to share it with each and everyone one of you!
Happy Holidays to each of you!
K Jaggers
♥