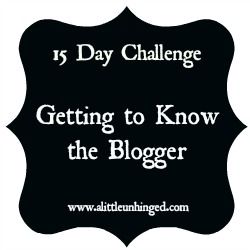 Getting to know the Blogger
link up! Its all great when we can take a little time to get to know each other! This blogging community is HUGE and there are so many great bloggers.. and it will be great making some new friends! If you blog, be sure to join up!!
I am running a little late tonight with this post.. but at least its up.. For this post, I wanted to dig out some old pictures.. so here we go!
Today's question is.. ( Btw.. I am one day behind on this.. so I will probably post another one in a few hours to catch up! )
Why did you start blogging and
I started this blog about 4 years ago as a place to share what was going on with us for rest of our family. we were traveling a lot.. moving around and we just wanted a place where anyone could log on and read our news. I didn't even have google friend connect up for years. It wasn't about getting followers and being the most popular blog around.. But now I have made a ton of friends in the blogging community and i am loving it. I blog about my life.. things I love.. things I don't love so much.. all things wife, mother and woman. my blog includes everything from our random glamorous life stories, funny husby stories, make up and movie reviews, parenting drama, lots of cute kitty pictures from our fur babies. Its the jaggers family blog so there are also guest posts from my husband and family! Its ever changing.. evolving and I love it.
I love blogging.. and I plan on keeping it up for a very long time! I recommend it to everyone. My mom is even blogging right now. Its a great way to record your memories and pictures... you can make it public or private and its pretty darn easy to do! Also, i keep talking about the blog books that you can have made. There are several online publishers that will print your blog into a hard cover book. is that not amazing!? For 2011 I would have to have different volumes.. because I blogged so much last year. It will be such a treasure when i am dead and gone for my family.. my kids kids.. reading my blog books learning about who I was. I think its an honor and i want to document everything.
blogging is a part of my life now. I don't see that changing for a long time. If you are wanting a way to store all those pictures and cherished moments, maybe a blog is for you too. You could always do a blog on something other than your family too. The wine reviews I post, get the most readers out of all my other blog posts.. or if you are a guy.. maybe a gamming blog. Write about what you love and it will come natural for you!