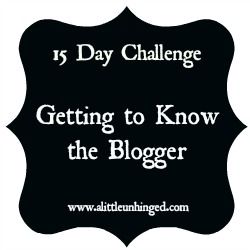 Getting to know the Blogger
link up! Its all great when we can take a little time to get to know each other! This blogging community is HUGE and there are so many great bloggers.. and it will be great making some new friends! If you blog, be sure to join up!!
I am running a little late tonight with this post.. but at least its up.. For this post, I wanted to dig out some old pictures.. so here we go!
Has your life gone the way you expected it?
My life has turned out much better than I ever expected it. For the longest time life was hard for me. I made poor decisions and took little longer for me to understand how serious those decisions would affect my life. My 20's were horrible. I doubt I would ever go back to those years but then
Scott came in my life and everything changed. I really was broken when he showed up. I had some serious life lessons i was going through. i was living and working with mom..and i had known scott for years. He was a friend of a friend and was always so kind to me. he always asked me if i was happy. i lied every time. then when i finally told him i wasn't happy.. he swept me off my feet and since we have had the most amazing life. not every day is perfect but we really saved each other. because of the life we built, i am truly the happiest i have ever been.
my children have also made my life so much better. i am not mother of the year, i fail at all kinds of stuff but they think i am perfect! It was hard when they were toddlers.. and time has passed and now they are very
opinionated little people who are always teaching me new lessons.
so life is sweet now.. i know how blessed i am and I don't take one thing for granted. i know all this could end in a second. i try to make as many good memories as i can and love as hard as i can.