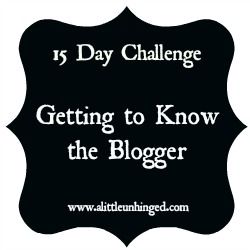 Getting to know the Blogger
link up! Its all great when we can take a little time to get to know each other! This blogging community is HUGE and there are so many great bloggers.. and it will be great making some new friends! If you blog, be sure to join up!!
I am running a little late tonight with this post.. but at least its up.. For this post, I wanted to dig out some old pictures.. so here we go!
Who was your closest friends as a teenager?
Well, to be very honest most of my teenage friends were more friends of my looser boyfriend. As I moved into high school I
didn't
spend as much time with my older friends. Kinda sad huh? I dated the same guy for about 6 years so his friends became my friends. Even stalker girl even was one of those people. Bad decisions lead to not such good friends. I did stay in touch with most of my life long friends and they are still my friends today. I do have to thank Facebook for keeping us all in touch! I can really count on one hand my closest friends and I really do love them for being a great support system.