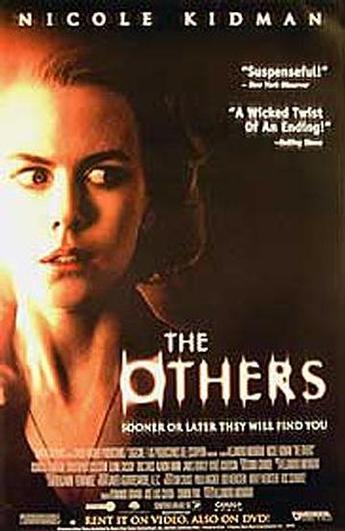 I normally don't watch scary movies because they will in fact give me bad dreams. But since it is Halloween season a lot of old movies are playing on tv. So I decided to finally watch this movie..
Here's a little bit about it..
Spanish filmmaker Alejandro Amenabar's first English-language production is a creepy period ghost story that continues in the vein of his earlier art house hit Open Your Eyes (1997). Nicole Kidman stars as Grace, a devoutly religious mother of two ailing children who has moved with her family to a mansion on the English coast while awaiting her husband's return from World War II, though he has been declared missing. Their children, Anne (Alakina Mann) and Nicholas (James Bentley), both suffer from a rare photosensitivity disease that renders them extremely vulnerable to sunlight, prompting Grace's rule of having only one door open in the house at a time. When Anne begins claiming to see ghosts, Grace at first believes her newly arrived family of eccentric servants to be responsible, but chilling events and visions soon lead her to believe that something supernatural is indeed going on. The Others was released only a few months prior to Vanilla Sky (2001), the American remake of Alejandro's Open Your Eyes (1997), ironically starring Kidman's then-estranged husband Tom Cruise. ~ Karl Williams, Rovi
So I sat back and watched this movie and I was shocked at how much I loved it! 'The Others' is an incredibly frightening tale of a mother and her 2 children living in a haunted mansion, alongside their 3 mysterious servants in 1945. Of course I love the house..
But the movie had a lot of twists and turns that I wasn't expecting. Scary as hell and intelligent. Nicole Kidman provides a wonderful performance as a terrified mother of fragile children. The ending is one of the best I've seen. There are some movies which scare you with fancy props. Some that scare you with loud and extravagant sound effects. However, 'The Others' scares you with the magnificent air of creepiness that it builds up. No over-the-top props or eerie sound effects here. Just sheer patience and a story-line that keeps you on the edge of your seat!
I am giving this movie..
because I really loved it! I am sure some of you guys will not be too happy with a old movie review.. but I just watched it for the first time and fell in love with it!
Have you seen it?? Agree with my thoughts? I think its the perfect time of year to enjoy some old scary movies!
Hope you have a great Halloween week!
K Jaggers
♥