I am a dreamer of sorts. I see things and I get carried away. Its seems every time I go out, I see a car with a Christmas tree on it. It makes me so happy to see those cars zipping by with a tree attached to the roof. I am totally in love. We have an artificial tree but there has been many times I almost pulled over to get another tree.. a real tree.I still might. I doubt I will this year but I do want one. There is a house right down the road that has 2 real trees with lights on their porches. They have a 2 porches on 2 levels. Anyway, its so beautiful. I am thinking I am going to have to do a video of the houses around here because they are stunning. I am happy with all the trees around here. While I was doing this post, I realized North Carolina was a big producer of Christmas Trees. Fancy that!!! Anyway.. I thought I would share some history and fun facts. I think its great to tell the kids these facts..fill those little brains up!
Germany is credited with starting the Christmas tree tradition as we now know it in the 16th century when devout Christians brought decorated trees into their homes. Some built Christmas pyramids of wood and decorated them with evergreens and candles if wood was scarce. It is a widely held belief that Martin Luther, the 16th-century Protestant reformer, first added lighted candles to a tree. Walking toward his home one winter evening, composing a sermon, he was awed by the brilliance of stars twinkling amidst evergreens. To recapture the scene for his family, he erected a tree in the main room and wired its branches with lighted candles.
Most 19th-century Americans found Christmas trees an oddity. The first record of one being on display was in the 1830s by the German settlers of Pennsylvania, although trees had been a tradition in many German homes much earlier. The Pennsylvania German settlements had community trees as early as 1747. But, as late as the 1840s Christmas trees were seen as pagan symbols and not accepted by most Americans.
It is not surprising that, like many other festive Christmas customs, the tree was adopted so late in America. To the New England Puritans, Christmas was sacred. The pilgrims's second governor, William Bradford, wrote that he tried hard to stamp out "pagan mockery" of the observance, penalizing any frivolity. The influential Oliver Cromwell preached against "the heathen traditions" of Christmas carols, decorated trees, and any joyful expression that desecrated "that sacred event." In 1659, the General Court of Massachusetts enacted a law making any observance of December 25 (other than a church service) a penal offense; people were fined for hanging decorations. That stern solemnity continued until the 19th century, when the influx of German and Irish immigrants undermined the Puritan legacy.
In 1846, the popular royals, Queen Victoria and her German Prince, Albert, were sketched
in the Illustrated London News standing with their children around a Christmas tree. Unlike the previous royal family, Victoria was very popular with her subjects, and what was done at court immediately became fashionable—not only in Britain, but with fashion-conscious East Coast American Society. The Christmas tree had arrived.
By the 1890s Christmas ornaments were arriving from Germany and Christmas tree popularity was on the rise around the U.S. It was noted that Europeans used small trees about four feet in height, while Americans liked their Christmas trees to reach from floor to ceiling.
The Christmas tree popularity died down somewhat in the UK after the death of Queen Victoria. but in the 1930's (in Britain) there was a revival of Dickensian nostalgia, particularly in Britain. Christmas cards all sported Crinoline ladies with muffs and bonnets popular in the 1840's. Christmas Trees became large, and real again, and were decorated with many bells, balls and tinsels, and with a beautiful golden haired angel at the top.
But wartime England put a stop to many of these trees. It was forbidden to cut trees down for decoration, and with so many raids, many people preferred to keep their most precious heirloom Christmas tree decorations carefully stored away in metal boxes, and decorated only a small tabletop tree with home-made decorations, which could be taken down into the shelters for a little Christmas cheer, when the air-raid sirens went.
The first national American Christmas Tree was lighted in the year 1923 on the White House lawn by President Calvin Coolidge. A tree from the National Christmas Tree Association has been displayed in the Blue Room of the White House since 1966. See Christmas Trees at the White House.
After World War II, the Christmas tree again became popular!
The mid-1960's saw another change. Sammy Davis Jr, and the Mod 60's were booming, and plastic was everywhere. Silver aluminum trees became popular. The 'Silver Pine' tree, patented in the 1950's, was designed to have a revolving light source under it, with coloured gelatine 'windows, which allowed the light to shine in different shades as it revolved under the tree. No decorations were needed for this tree. Very "hip"!
The early 20th century saw Americans decorating their trees mainly with homemade ornaments, while the German-American sect continued to use apples, nuts, and marzipan cookies. Popcorn joined in after being dyed bright colors and interlaced with berries and nuts. Electricity brought about Christmas lights, making it possible for Christmas trees to glow for days on end. With this, Christmas trees began to appear in town squares across the country and having a Christmas tree in the home became an American tradition.
Here are some fun facts!!
Christmas trees have been sold commercially in the United States since about 1850.
In 1979, the National Christmas Tree was not lighted except for the top ornament. This was done in honor of the American hostages in Iran.
Between 1887-1933 a fishing schooner called the Christmas Ship would tie up at the Clark Street bridge and sell spruce trees from Michigan to Chicagoans.
The tallest living Christmas tree is believed to be the 122-foot, 91-year-old Douglas fir in the town of Woodinville, Washington.
The Rockefeller Center Christmas tree tradition began in 1933.
Franklin Pierce, the 14th president, brought the Christmas tree tradition to the White House.
In 1923, President Calvin Coolidge started the National Christmas Tree Lighting Ceremony now held every year on the White House lawn
.
Since 1966, the National Christmas Tree Association has given a Christmas tree to the President and first family.
Most Christmas trees are cut weeks before they get to a retail outlet.
In 1912, the first community Christmas tree in the United States was erected in New York City.
Christmas trees generally take 6-8 years to mature.
Christmas trees are grown in all 50 states including Hawaii and Alaska.
100,000 people are employed in the Christmas tree industry.
98 percent of all Christmas trees are grown on farms.
More than 1,000,000 acres of land have been planted with Christmas trees.
77 million Christmas trees are planted each year.
On average, over 2,000 Christmas trees are planted per acre.
You should never burn your Christmas tree in the fireplace. It can contribute to creosote buildup.
Other types of trees such as cherry and hawthorns were used as Christmas trees in the past.
Thomas Edison's assistants came up with the idea of electric lights for Christmas trees.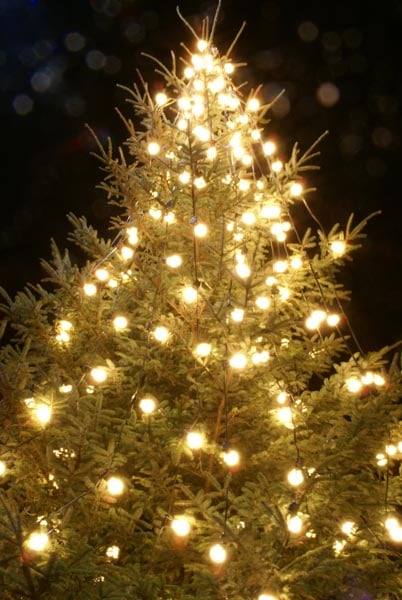 In 1963, the National Christmas Tree was not lit until December 22nd because of a national 30-day period of mourning following the assassination of President Kennedy.
Teddy Roosevelt banned the Christmas tree from the White House for environmental reasons.
In the first week, a tree in your home will consume as much as a quart of water per day.
Tinsel was once banned by the government. Tinsel contained lead at one time, now it's made of plastic.
In 1984, the National Christmas Tree was lit on December 13th with temperatures in the 70s, making it one of the warmest tree lightnings in history.
34 to 36 million Christmas trees are produced each year and 95 percent are shipped or sold directly from Christmas tree farms.
Christmas tree producing states. California, Oregon, Michigan, Washington, Wisconsin, Pennsylvania, and North Carolina are the top
The best selling trees are Scotch Pine, Douglas Fir, Fraser Fir, Balsam Fir, and White Pine
I would love to hear what kind of trees you guys have!! Real or Artifical???
Email me
kishajaggers@aol.com
and I might add a poll at the top of the blog! Just click and answer..
~ Its up now.. at the top of the long on the right!! ~
=))
Sorry about the font issues.. I don't know what is going on with blogger. It just would not change over. Sorry!
K Jaggers
♥